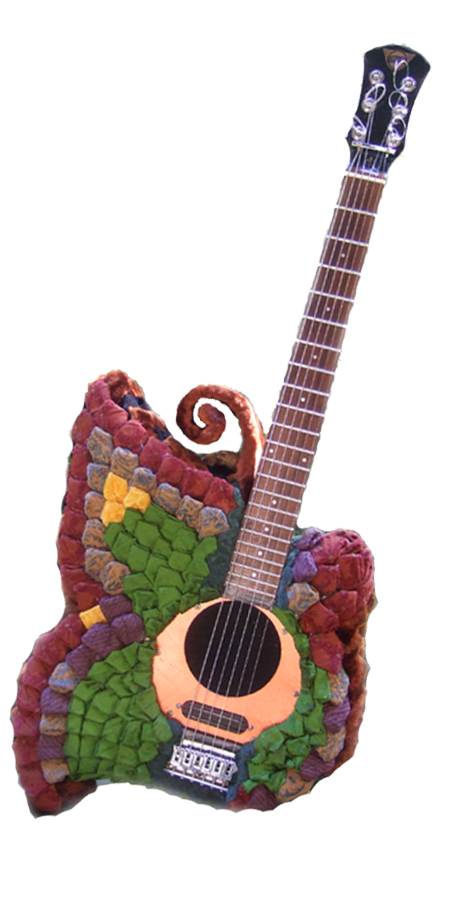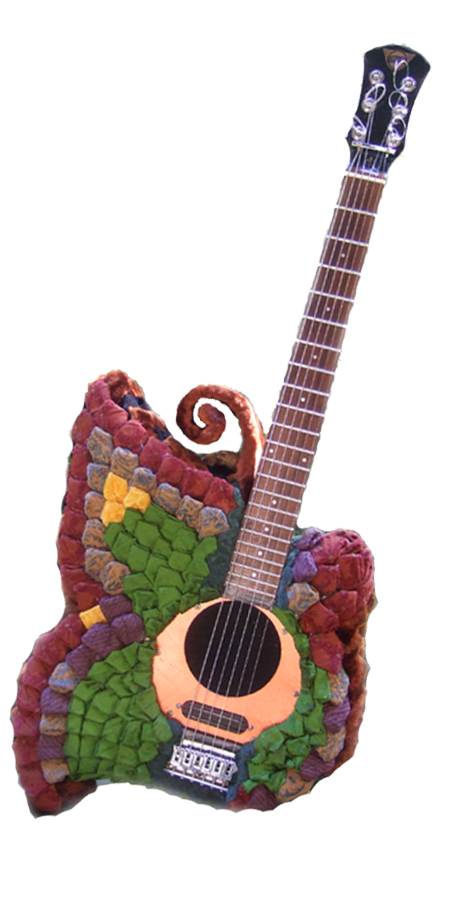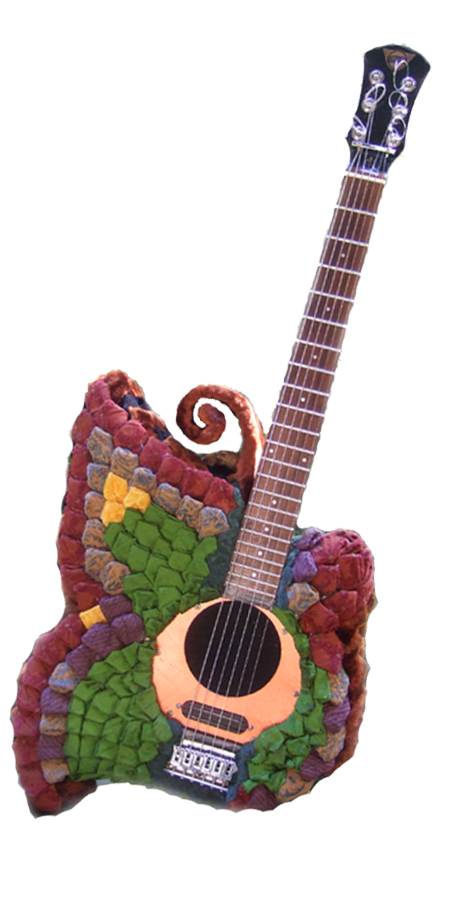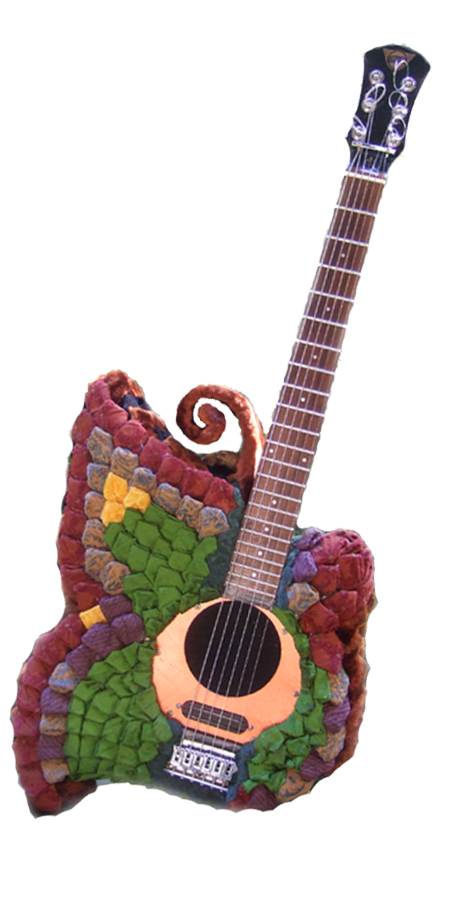 Boasting 9 volts of portable rock and roll rawness embedded in a faux sound hole, The Weapon is the ultimate tool in the war of attention-seeking.

One day, I was walking in the lush forests blanketing the beautiful Pacific Northwest. I heard a crash behind me. Rushing to the source of the sound, I saw flames leaping skyward from a meadow nearby. In the distance, beetle helicopter blades buzzed lightly.

I arrived to find the kind of devastation only a UFO crash site can create. Twisted, green bodies lay in pieces around the hulking, toothy frame of a black starship made in the shape of a ninja star.

A golden orb still glowed, the size of Cinderella's pumpkin carriage, in the middle of the wreckage. It hummed deeply as I approached, a hum that shook the tendrils connecting my soul to my spine. Embedded in a nearby body, giant eyes threw a tiny mouth full of padded alien dialects at my unheeding ear as I reached out and pressed my finger into the molten light of the glowing orb.

I am not sure if an explosion occurred or if I was simply shocked into the air by invisible lightning. I awoke before I landed, suddenly sharply aware of the alien words, a diffuse cloud of intent and meaning that may or may not have been probable at any moment.

As I hit the ground, I understood what the extraterrestrial was trying to impart; "They will have your viscera," s/he said. I told the bleeding creature with my mind, "I will help if it will not smash my travellers." After all, I did have my own situations to manage. The fleshy pile of grayish meat wheezed out a final telepathic image, the contents of which I am not at liberty to communicate to you at present, but those contents revealed to me that there would be miles of grits before we breakfast on planet Earth.

Now, a light breeze coupled with a deep roar: the helicopter quickly drew near. Turning to leave, my eyes passed the center of the crash, where the glowing orb had been.

As a great power-up does in a video game when you have finally defeated the final enemy--in the still, empty air of the eye of the storm--when it there is nothing left to do but touch the final prize and complete the game--when one can refuse and spend an empty moment exploring the silence--in that vacant majesty of momentary momentouslessness, a guitar hovered, frozen, in mid-air. It rotated softly; I heard distant laughter. I did not think twice. I did not hesitate. I did not fabricate any reasoning. I grasped the guitar, prised it from its magic, and held its glowing body against my toothpick ribs as I returned to the comforting dark of deep woods to examine the artifact.

A musical engine made to power intergalactic travel, using this guitar for the creation of entertainments is like showing up at a knife fight with a tank made out of Michael Jacksons. She delivers an impossible barrage of deeply compressed mids and distortion made out of the scream of a princess immersed in a secret dream. I named her Weapon because she is an arrow of hype, a destroyer of death, and a conductor of truth.

Posting this information puts me at great peril. Even now, both sides of a universal struggle are trying to extinguish the light I have been lucky enough to stumble across on an innocent August hike in 2008. Supplies are limited, interested parties are urged to catch me on stage before the corrupt galactic police catch me on the bluest planet anywhere on this side of the Central Universal Tree Of Life.